Electric Repair Service in Austin, TX
Chances are that you'll encounter an electric problem at one point or another, and the team at ABC Electric is here to promptly assist whenever an issue arises. One of the most experienced businesses in the Greater Austin area, we pride ourselves on our dedication to offering timely and top-notch electric repair service. We're environmentally friendly, and we support the Alzheimer's Association and Hospice of Austin.
From electrical wiring and knob and tube repairs to electrical panel and circuit breaker replacements, we're capable of tackling jobs of all sizes with resourcefulness. We're stocked with a wide array of premium materials, and we go above and beyond to ensure that each of our customers receives: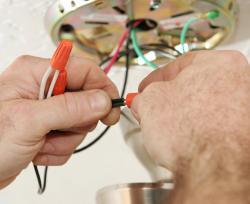 Value
Hassle-free service
Skilled workmanship
Attention to detail
You won't regret depending on ABC Electric in Round Rock, TX, the next time you're in need of electric repair service. Whether you own a home or an office building, we're confident in our ability to provide you with a job that's finished to your standards. We're happy to give you a written quote, and we offer 24/7 emergency appointments. Call or visit our office today.
Message Sent. Thank you for contacting us. We will be in touch with you shortly.
Send A New Message
Qualifications
A+ Rating With the BBB
Master Electrician
Licenses
Texas Electrical Contractor

19718