Home Electrical Wiring in Austin, TX
The hardworking home electrical wiring specialists at ABC Electric have been striving to provide unbeatable value to customers in Austin and the nearby areas since 1949. Whether you're in need of brand-new installation, minor repair, or complete replacement, we're here to help. We think you'll discover that we're capable of handling any type of job with ease whenever you depend on us, and we offer complete appointment flexibility.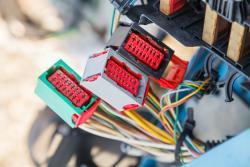 Respectful Service
We'll show up exactly on time, and you can rest assured that we'll be respectful of your property from beginning to end. We try to keep our rates affordable, and we'll work to earn your long-term contentment by remaining focused on getting the job done right. Because we care about your peace of mind, we've conducted background checks on each of our contractors.
You don't have to search any further than ABC Electric in Round Rock, TX, whenever you're in need of home electrical wiring service. We're a family-owned and -operated company that's accredited by the Better Business Bureau, and we're available to assist you Monday - Sunday. To request an estimate, call today.
Message Sent. Thank you for contacting us. We will be in touch with you shortly.
Send A New Message
Qualifications
A+ Rating With the BBB
Master Electrician
Licenses
Texas Electrical Contractor

19718